A New Translation of the works of Josephus
This new version of Josephus' works is a labour of love, begun in 2001. At that time, the only complete English version of his writings that I could find on the Internet was made in the eighteenth century, by William Whiston (1667 to 1752) under the title, The Works of Flavius Josephus (1737). Convinced that many students as well as my own at the Milltown Institute of Theology in Dublin could benefit from having a more modern translation online, I thought to make this new version, based on the Greek of Niese's editio major, as printed in the Loeb edition of Josephus (Harvard, 1934ff.)
Whiston's rendering of Josephus, while in the main quite accurate, has a distinctly old-fashioned ring to it, due partly to its dependence of the vocabulary of the King James Bible, and partly to his strict adherence to the word-order and syntax of the Greek original. The present version aims at a somewhat more modern idiom, though without neglecting the quest for accuracy. I have taken liberty to leave untranslated some purely stylistic Greek particles, while aiming at as literal a version as is consonant with the English we speak in Ireland today.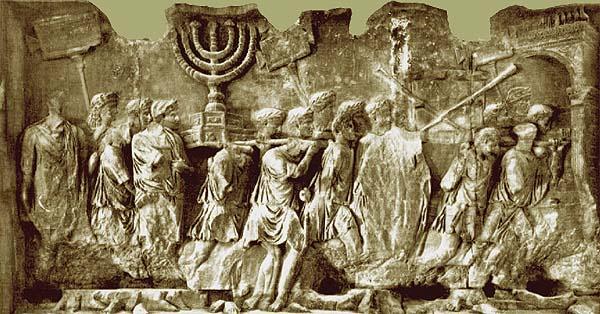 Seven-branched candelstick from the Jerusalem Temple
carried by Titus' soldiers in the triumphal procession of 72 A.D.
Bas-relief from the Arch of Titus, on the Via Sacra, Rome
The paragraph numbers used by Whiston and the verse numbers devised by Benedikt Niese are both included here. In the online Greek text I have kept the English version in a parallel column so the studious reader can easily check the level of its correspondence with the original. In this work I have been indebted to various other translations of and works about Josephus. While the translation was made from the Greek text, I have kept a close eye on Whiston's rendering throughout, and have often consulted the 1940's version in the Loeb edition, for a felicitous equivalent to many a particular phrase. Another reference point was the valuable commentary material in the PACE Josephus project currently being carried out by Prof. Steve Mason and his team, http://pace.cns.yorku.ca
Numbering System for the works of Josephus
The division of the works of Josephus into chapters is very ancient, and is reflected in citations by Cassiodorus. The sub-division of each chapter into numbered paragraphs goes back at least as far as Whiston's 18th century translation, and may well precede him.
References to Josephus are cited in one of two styles:
1) By book, chapter and paragraph [e.g. Ant. 2.6.9]  . [The main difficulty with this older form of citation is that the numbered paragraphs vary greatly in length, from five to more than a hundred lines. In the War, for example, a single paragraph can contain a lengthy speech, running to several pages! ]


2) By book and verse [e.g. Ant. 2.160]. [Here, each verse, rather like a biblical verse, is just a few lines of text, seldom more than two sentences long; each book consists of hundreds of these verses, numbered sequentially. This useful system of subdividing the Greek text into these shorter verses, for the more precise location of particular passages in the text, appears to have been introduced by Benedikt Niese in his critical edition: Flavii Josephi Opera. 7 vols (editio major). Berlin: Weidmann, 1885-1895. Some very long paragraphs consist of numerous verses, only the first of which is indexed here. For an example, see Agrippa's speech, in War 2:345-401]


 

Both numbering styles are incorporated in this edition

:



Style 1) books and chapters are indexed in the Table of Contents [the paragraph numbers, as enumerated in Whiston, are listed in plain text only, and not indexed in any way, in order to avoid confusing them with the far more numerous verse-numbers]


Style 2) the verse-numbers are also kept within the text, for easy reference. Any desired verse can be easily reached using the Search-key: Ctrl-F

It is hoped that this new version may be yet another invitation for today's students of Second Temple Jewish history to sample the vitality and creativity, as well as the religious and historical vision of the extraordinary first century recorder, Josephus.